A British pianist, living in Thailand, has taken his craft to entirely new heights. Somewhere, deep in the jungle, 57-year-old […]
A British pianist, living in Thailand, has taken his craft to entirely new heights.
Somewhere, deep in the jungle, 57-year-old Paul Barton has dragged his piano into a clearing, on the banks of the River Kwai, to play music for old, injured and disabled elephants.
Barton learned that Thailand went through a period of rapid deforestation from 1975 to 1986. People around the world wanted Thailand's teak wood, and so companies started cutting down trees without worrying about the animals who were losing their homes.
Elephants were some of the animals that suffered the most during this time. Many companies forced elephants to carry heavy logs for them. As the elephants carried the logs, they would often get scratched by sharp twigs and branches, leaving them bloody.
In 1989, Thailand's government finally banned commercial timber logging. But the elephants' suffering wasn't over yet—they had lost their homes and had nowhere to go.
Many conservationists and animal lovers set up sanctuaries for these abused and neglected elephants. These sanctuaries gave elephants the space they needed to roam. It was the next best thing to being in the wild.
Paul Barton visited one of these sanctuaries, Elephants World, and fell in love with the elephants there.
"I wondered if these old elephants might like to listen to some slow classical music when I arrived, so I asked if I could bring my piano along and they allowed it," Mr Barton said.
Untethered and free to wander and graze as they please, elephants would surround Mr Barton and his piano during each visit, fascinated by the calming sounds of Beethoven, Mozart, Bach and Debussy.
Barton shares videos of his concerts on his YouTube page. The elephants love listening to his playing—they'll often stand right next to the piano, moving their ears and trunk in time to the music.
"When I play music to elephants I always feel calm and happy," he said.
Mr Barton chooses particular songs he thinks each elephant will like.
It must work because he has been doing it for years and has some seriously big fans.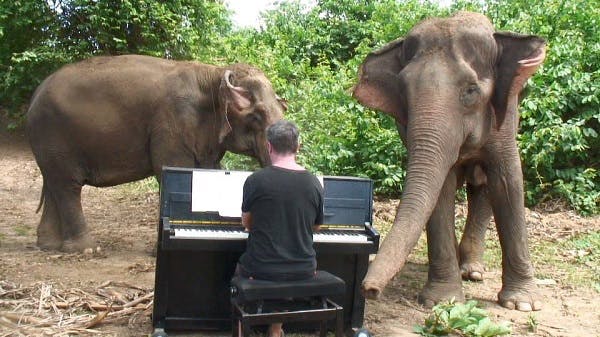 "Elephants are emotional animals, like us, and I'm just following my instincts to play music for them," he said.
"All I can do is hope that the work we do can make the lives of these rescued elephants a little bit better."
"I hope that music like this will be part of a process of rehabilitation for elephants that have had stressful lives," he said.
If you'd like to see Barton's heartwarming piano performance, check out the video below.